Dry Disconnect Fittings
Category: Product News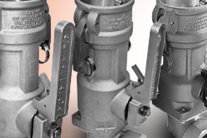 Dry Disconnect Fittings

Liquip offers the most comprehensive line of dry disconnect products in the petrochemical and similar industries, used at transfer points where product loss is unacceptable.
Our line of dry disconnects includes; DrykLok™, Kamvalok® and Epsilon®, all suitable for a broad range of hazardous liquid applications.
Dry disconnect couplings have been proven as a successful technology to help protect workers and the environment in the transfer of hazardous materials. Our dry disconnect fittings also ensure against accidental spillage of liquids.
Common Applications:
Handling petroleum products.
Solvents.
Ag-chemicals.
Vegetable oils.
Detergents.
Many acids and caustics.
E: orders@liquip.com | T: +61 2 9725 9000 | F: +61 2 9725 1252