DFV100 Series Electronic Registers
Category: Product News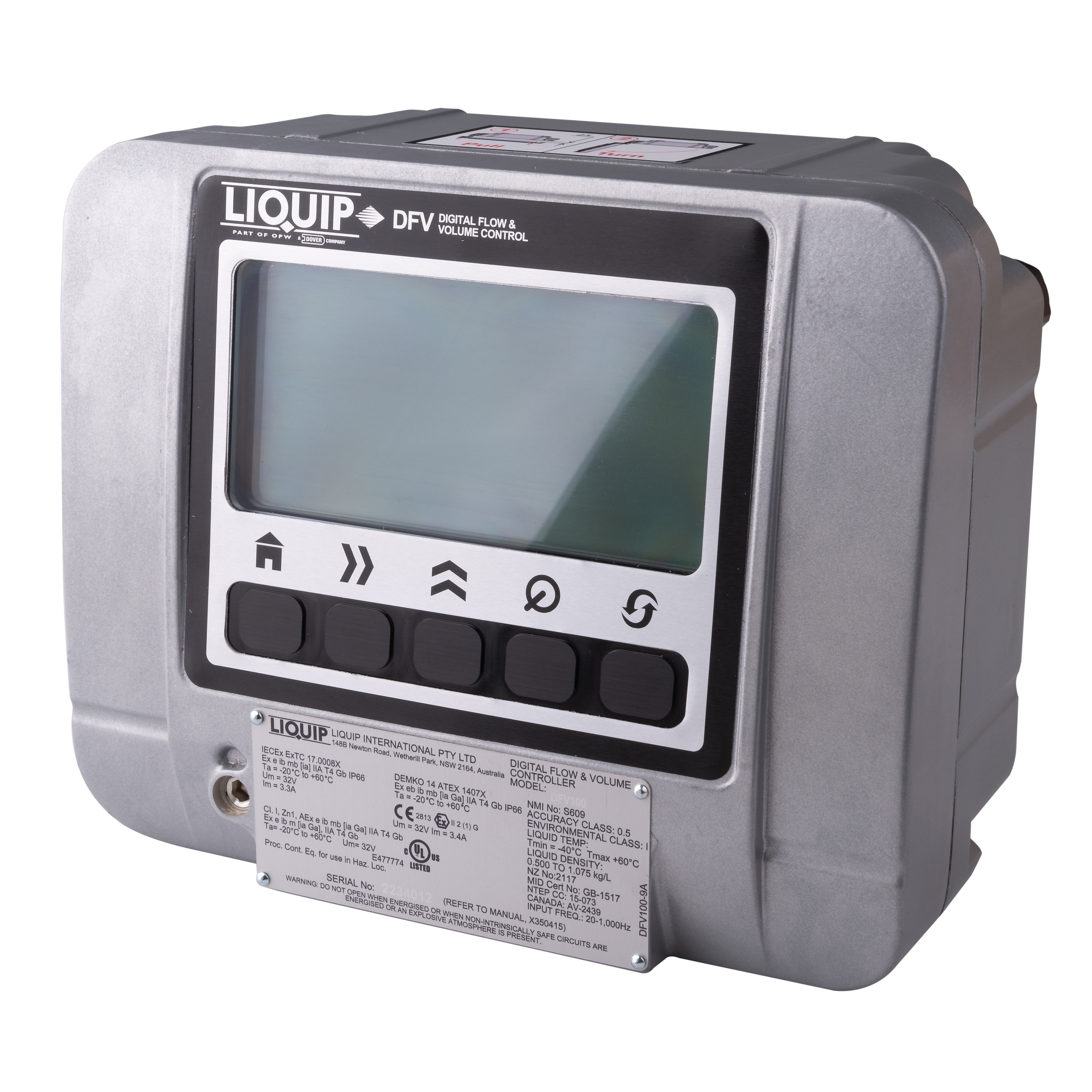 The DFV100 series is the latest advancement in Liquip's range of electronics, featuring as a stand alone register, Diptronic CPU or combined unit.
The DFV100 series provides reliable and accurate service combined with long service life and simple operation.
The DFV100 is approved for use in Zone 1 (IEC) truck mounted or fixed site product transfer applications.
KEY FEATURES COMMON TO ALL POTTED DFV UNITS
Safety Approved for use in Zone 1 (IEC). Ex e ib mb [ia] IIA T4 Gb IP66 (Ta = -20°C to +60°C)
Weights & Measures Approved: NMI-Australia, Europe-MID, New Zealand.
Durable Aluminium housing with hinged door to allow easy access to internal connections.
Large display to easily view multiple information simultaneously.
RS232 / RS485 and CAN communication.
Intuitive set up and programming.
Electronic calibration.
Non-linearity correction.
Non volatile memory for storing set parameters.
Operates on 12 or 24 volt installations.
Backlit display for ease of reading in low light.
Piezoelectric buttons for reliability.
Connection to a ticket printer or a third party fuel management system.
Can be connected to a large digit display.
Micro SD card for easy software upgrades.
KEY FEATURES COMMON TO ALL REGISTERS
Preset functionality / batch control.
Solenoid outputs are voltage free and can perform a 2 stage ramp up and ramp down of the fluid flow.
No flow timer.
One calibration point with Weights & Measures sealable captive fastener.
Compatible with most flow meters on the market.
Pulse output can be programed as optional additional fourth relay.
Functionally backwards compatible with Liquip EMH registers.
Flowrate displayed on main screen along with volume during delivery.
Future expansion and modularity available.
DFV100 can be upgraded to include a Diptronic CPU - See DFV101 Datasheet.
CONTACT LIQUIP
now for more information or
BECOME A MEMBER
to access technical information.